This article, Young Justice: The Video Game, is property of ExtremeSSJ4.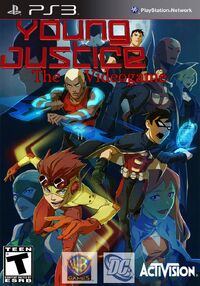 Young Justice: The Video Game is a videogame (fan made) created by Warner Bros, DC, Activision and Extreme Productions. The game is available in Playstation 3, Xbox 360 and Wii. The game is rated Teen.
List of Characters
Edit
Aqualad
Robin
Kid Flash
Artemis
Miss Martian
Superboy
Zatanna
Red Arrow
Red Tornado
Batman
Superman
Flash
Green Arrow
Martian Manhunter
Aquaman
Black Canary
Captain Marvel
Mister Freeze
Icicle Jr.
Killer Frost
Captain Cold
Blockbuster
Mr. Twister
Brick
Bane
Sportsmaster
Kobra
MONQI
Amazo
Game Modes
Edit
Story Mode
V.S.
Online
Creation Zone
TV Mode
Options
Shop
Story Mode
Edit
Creation Zone
Edit
Achievements/Unlockables
Edit
This is not an official game, its just fan made.
The cover of the videogame was made by ExtremeSSJ4.