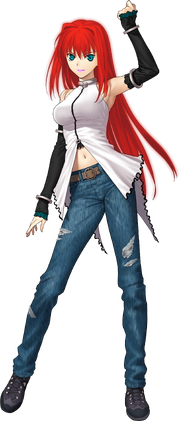 Trisha
[[1]]


Name

Trisha

Age

(physically) 20 (actual) 3-4

Gender

Female

Hair Color

Red

Eye Color

Blue

Relatives

Tula (mother/genetic code source)

Affiliation

The Team

Enemies

The Light

Powers

Hydrokinesis
Trisha is a Cadmus project who was cloned from Tula. She resembles the deceased Atlatean to the point where she is mistaken for Tula upon meeting Kaldur'ahm.
Personality
Edit
In contrast to her former self, Trisha is a carefree young woman who isn't afraid to take risks for the safety of others. She is tough, and takes most things in stride and a slightly serious manner. The only exception is when the terms of her appearance is brought up, or if she is around the other projects for the Light's machine; in which Trisha is rendered vulnerable and confused. She cares nothing about the past or the Atlatean she was cloned from, choosing to focus on the present.
Appearance
Edit
Trisha has long red hair and aquamarine colored eyes, much like Tula. The only difference is that her body is that of a twenty year old, accented by her large chest and hips. She often wears a high neck white top with a collar that splits open to slightly reveal a black shirt underneath, as well as her stomach, torn blue jeans, black sneakers, and frilled black arm warmers with matching silver bands on her upper arms and wrists.
History
The issue of Trisha birth are unknown (they only know that she was cloned from Tula after her death). She did ,however, escape Cadmus before her mind could be altered so she could obey commands from Vandal Savage. 
Trisha escaped before Clover's birth, but it is assumed that she was the first of the women needed for the machine.
Powers and Abilities
Edit
Hydrokinesis Due to her Atlatean DNA, Trisha can control water at will, but is unable to generate electricity like natural born Atlateans
Durability
Edit
Trisha can withstand large amounts of pressure (as all Atlanteans can) and her skin is hard to penetrate.
Ad blocker interference detected!
Wikia is a free-to-use site that makes money from advertising. We have a modified experience for viewers using ad blockers

Wikia is not accessible if you've made further modifications. Remove the custom ad blocker rule(s) and the page will load as expected.