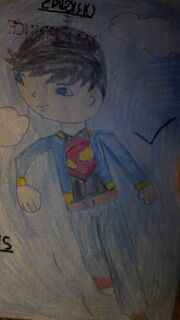 " I mean, I live for wearing the 'S' but I'm scared that I can't live up to it." -Superboy
Superboy

Real Name

Kan-El(birth) Chirstopher Jonathan Samuel Kent (legal)

Current Alias

Superboy

Alias

Chris, The Prince of Steel, Little Boy Blue

Relatives

Kal-El/Clark Kent(aka Superman,father),Lois Lane-Kent (mother), Laur-El/Lauren Kent (aka Supergirl,sister),Jor-El (birth paternal grandfather;deceased), Lara Lor-Van (birth paternal grandmother; deceased), Jonathan Kent (adoptive paternal grandfather;deceased), Martha Kent (adopted paternal grandmother), Kara Zor-El (aka Superwoman, cousin),Kon-El/Conner Kent (aka the Krypter, generic cousin), Cassandra Sandsmark-Kent (aka Amazona, future cousin-in-law), Hellilyna Kent (aka Star, future cousin), Sam Lane (maternal grandfather), Ella Lane (maternal grandmother; deceased), Lucy Lane (maternal aunt)

Alignment

Good

Gender

Male

Nationality

Kryptonian/Caucasian American

Date & Place of Birth (Age)

June 27, 1995 in Metropolis, NY (17)

Eyes & Hair

Blue (eyes) Black (hair)

Height & Weight

6"3' (height) 180lbs (weight)
Superboy is the oldest son of the world's greatest superhero, Superman. Blessed with the Kryptonian name, Kan-El by his father, Kal-El (Clark Kent) and christianed the name, Christopher Jonathan Samuel Kent by his mother, Lois Lane-Kent. He has a younger sister, Lauren, who's Supergirl. Raised the first 13 years not knowing of his Kryptonian roots, he found his powers and his true origins and is the leader of Young Justice.
Kan-El or Christopher Jonathan Samuel Kent was born to parents, Clark Kent "Kal-El" (aka Superman) and Lois Lane, the two star reporters of the Daily Planet in Metropolis, New York on June 27, 1995. He has a younger sister, Lauren Kent, who is Supergirl. As a child, Chris was never aware of his powers or of his father's real identity, which greatly frustrated him when his father would leave unexpectly. As his thirteenth birthday approached, Chris quickly developed the superpowers that he inheirted from his father, which forced the parents to explain the Krypton story. He even got to meet his paternal grandfather, Jor-El, who was proud of his existence. Chris made his own costume and was flying around as the new "Superboy"!
Appearance
Edit
Chris is a short version of his famous father at 6'3". Short unkept black hair, blue eyes, and medium skin tone. He's an average muscular 17 year old. His civillian wear is the standard Metropolis High uniform: a white dress shirt with "MH" on the heart, khaki pants, a black belt, and his regular red gymshoes and his out-of-school wear: a regular blue shirt, dark blue jeans, and black gymshoes.
His super costume consist of a blue jacket with yellow accents, a black t-shirt with his father's "S" emblem on  it, a brown belt, blue jeans, and red gymshoes.
Before Young Justice
Edit
Superboy was a small-time hero in the Metropolis community, but he didn't complain as he worked with his father and both of his cousins. With his powers, he found it hard to keep them a secret from his best friends, Chandon Conners and Sarah McKaine, but eventually told Chandon, who in returns works in the YJ Quarters.
Young Justice
Edit
Chris was asked to join the group by Bruce Wayne. At first, he was hesitant to join because he already knew that he was going to be thrust into being the leader, but after encouragement from his father & Conner, he quickly gave the answer Bruce was waiting for: "Yes, sir."
Education
Edit
He attended Curt Jones Elementary and currently attends Metropolis High, where he is in his senior year. He's on the football team, the newspaper crew, the baseball team, and the science club. He wants to major in Engineering at the University of Metropolis in the fall of next year.
Ad blocker interference detected!
Wikia is a free-to-use site that makes money from advertising. We have a modified experience for viewers using ad blockers

Wikia is not accessible if you've made further modifications. Remove the custom ad blocker rule(s) and the page will load as expected.