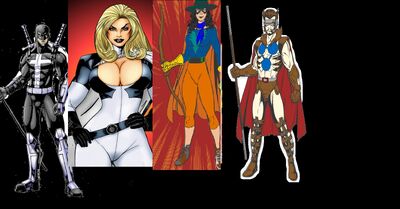 Dark crusader, Ultra Woman, Angel Bow, Blind Hawk.
Dark Crusader was fighting a whole army of demons waiting for the Justice League which never showed up. A explosion came Angel Bow help out with Blind Hawk and they won the battle later on Ultra Woman join.
Powers and abilities
Edit
Dark crusader- iillusian master
Ultra women- god like powers
Angel bow-master archer even better then green arrow
Blind hawk- master staff fighter enhance sense.
Ad blocker interference detected!
Wikia is a free-to-use site that makes money from advertising. We have a modified experience for viewers using ad blockers

Wikia is not accessible if you've made further modifications. Remove the custom ad blocker rule(s) and the page will load as expected.