An international organisation of evil (as it is repeatedly called) bent on world domination. KAOS was founded in 1904 in Bucharest. For the most part, however, KAOS appears to operate as a series of autonomous cells, each with its own leader and agenda. Even as one cell is destroyed, another is ready to carry out its plan, making the organization very resilient. It was defeated at the end of the cold war, however, it was brought baclk to life again by Basil Heaf in order to rule the world. It was defeated by C.O.N.T.R.O.L. a year after it's revival.
Known Agents
Edit
Basil Heaf
Victor Earl
X- Ray
Anamar Turner
Malak Turner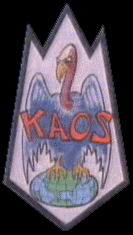 Ad blocker interference detected!
Wikia is a free-to-use site that makes money from advertising. We have a modified experience for viewers using ad blockers

Wikia is not accessible if you've made further modifications. Remove the custom ad blocker rule(s) and the page will load as expected.