Warning:Spoilers are to be expected when browsing this section on the wiki.
"
I always get what i want
"

–Carter talking to, Hummingbird
Carter
Vital Statistics

Real Name

Q'tar L'sson

Alias

MockingBird, Carter Lawson
Species
Meta-Human-martian hybrid
Designation
N/A

Carter loves destruction and manipulating peoples minds. His mother was a human withan active meta-gene and his father was a green Martian and is angered that his son is a white Martian
Personality
Edit
Carter is phsycotic and Sadistic. Carter enjoys the taste of Blood.
Physical Appearance
Edit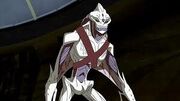 He has short blue-green hair and golden eyes in his humanoid form however he is a novice shapeshifter only able to transform from his human form to his white Martian form.
Early life
Edit
When he was little he tortured the other kids in his class. He controlled the minds of his teachers and got straight A's. When ever he went to stores he mind controlled people into buying him things. when he turned 15 his family moved to El Paso,Texas  Where he attempted to control his parent's minds , and for some reason they were immune to his control and they grounded . Then,he killed them, and later gained control of QL industries with the help of his many "talents".
He was locked in Belle Reve Penitentiary but escaped using his mind control and is no longer a wanted criminal do to his phsycic government influence. He now attends Rio Grande High School with Blue beetle AKA Jaime Reyes. He still owns QL industries
Powers and abilities
Edit
Telepathy:He can speak to others telepathically and he can control minds with if they make eye contact with him-Hynpotic vision
Telekinesis: He can move objects with his mind
Electricity manipulation- he can control , absorb, and generate electricity.
Technomancy- He can control , mimic, and understand all technology this helps him develop technology for new QL industries
ability mimicry- he can copy someone's abilities , powers ,and skills if he licks/drinks their blood
Equipment
Edit
Relationships
Edit
He is in love with her, and they are in a relationship. He constantly asks if she'll be his partner.
He is friends with Blue Beetle AKA Jaime Reyes and Tye Longshadow.
Q'tar is best friends with Miss Martian and constantly talks to her.
Ad blocker interference detected!
Wikia is a free-to-use site that makes money from advertising. We have a modified experience for viewers using ad blockers

Wikia is not accessible if you've made further modifications. Remove the custom ad blocker rule(s) and the page will load as expected.